UPDATE: Breakfast hours at South Haven High School have been extended to 7:45 AM - 9:00 AM, Monday through Friday! Don't miss this delicious daily meal. Full summer offerings can be found on our website at
https://www.shps.org/article/768049

SOUTH HAVEN GIRLS BASKETBALL CAMP WHEN: Tuesday, July 19 - Friday, July 22 WHERE: South Haven High School Gym WHO: Grades 1-4 -- 8:30-10:00 am Grades 5-8 -- 10:00-11:30 am COST: $40 per player, includes a camp shirt. Please make checks payable to SHPS. SIGN-UPS: Please RSVP to Coach Shiron Williams at
shiwilli202020@gmail.com
with name, grade and shirt size. Money and registration will be done at the door on the first day of camp.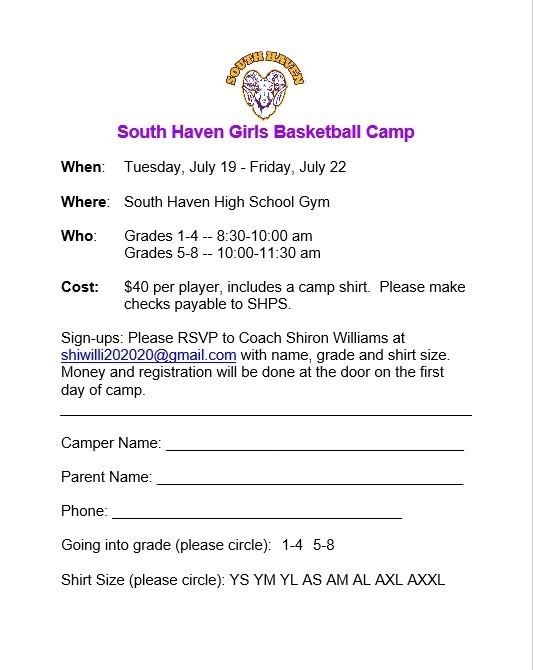 Summer Hours for the Administration Building 554 Green Street June 13 - August 5 M: 8:00 - 4:30 PM T: 8:00 - 4:30 PM W: 8:00 - 4:30 PM TH: 8:00 - 4:30 PM F: 8:00 - 12:00 PM

South Haven High School will be hosting a physical night on Wednesday, July 27 from 5:00 - 8:00 pm. The cost will be $40 and the service is provided by HealthBar. See the attached flyer for more details. Copies of the MHSAA Physical Form will be provided by SHPS.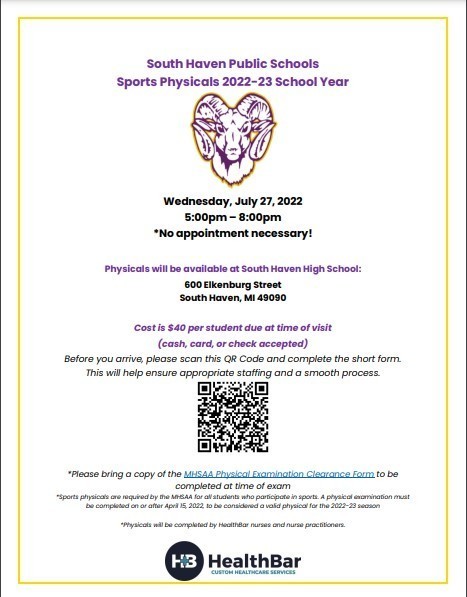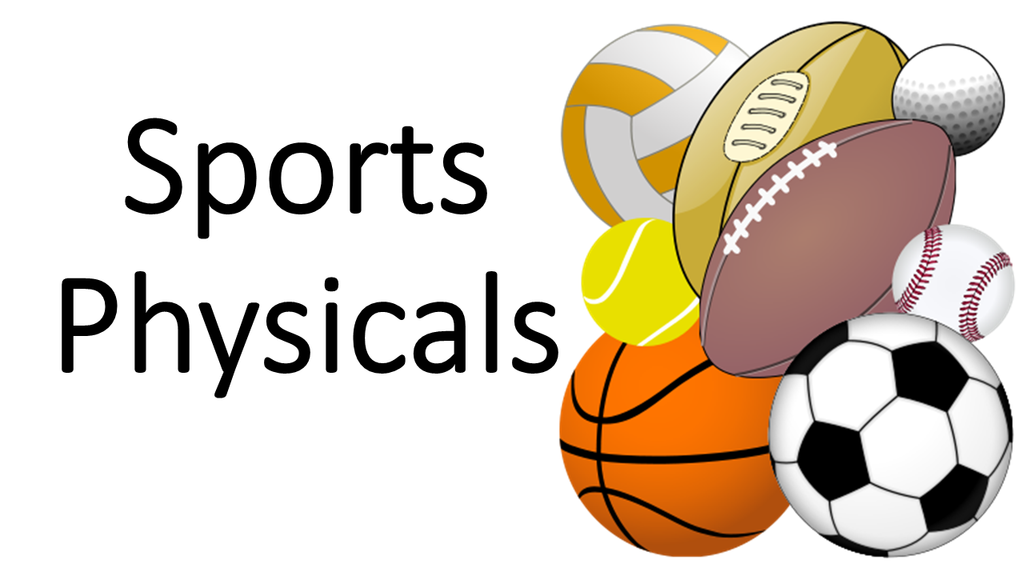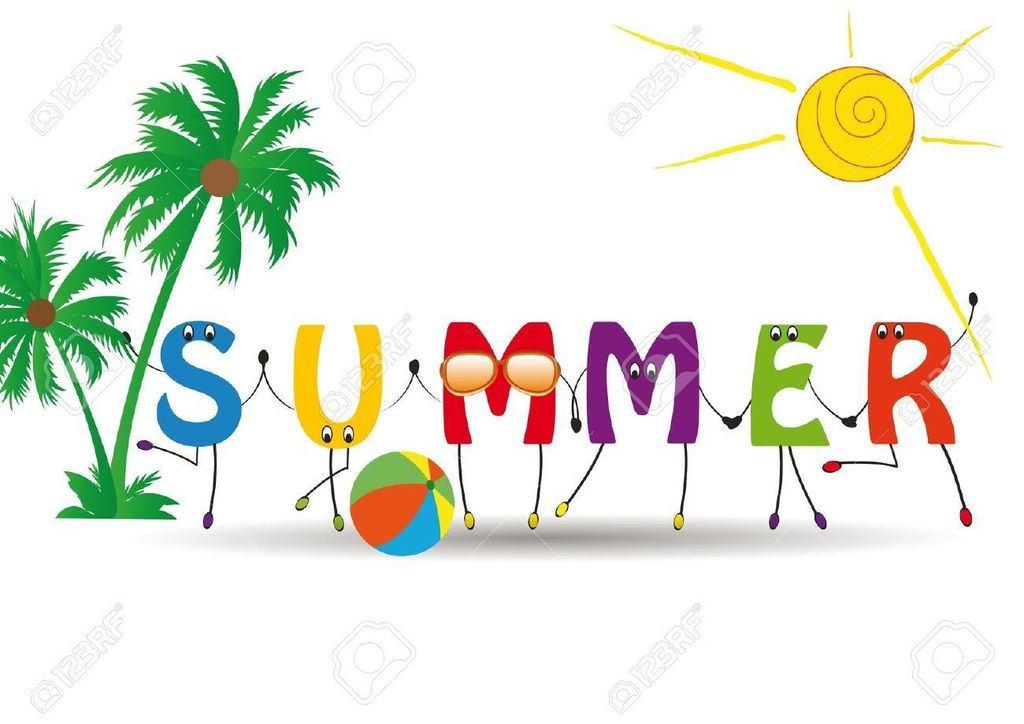 Baseline Spring Sports will be having their picture day on Wednesday, May 18. The MS track team will do their photos before they get on the bus, and the MS soccer team will follow at approximately 3:20. Coaches will be passing out picture forms, but pictures can also be ordered by going to:
https://prepay.geskusphoto.com/orderSchool.asp?ECC=
and then typing in "South Haven High and Middle - Spring Sports"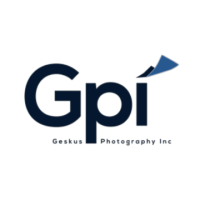 Summer Programming from South Haven Athletics This summer we are looking to make South Haven Athletics stronger, faster and better than ever before and we NEED YOU ALONG FOR THE RIDE. We want all of our athletes to participate in our summer strength and speed training workouts. MARK ON YOUR CALENDARS: Summer Ram Power strength and speed training will take place on Mondays, Wednesday & Thursdays throughout the summer from 5:00-7:30 pm in the SHHS weight room & gym. The program begins Monday, June 13. Please plan your work schedule and activities in advance so you can attend. This will include our Summer Ram Power Program and your own coaches' sport-specific training. All South Haven athletic teams will be holding their summer programming in conjunction with our summer Ram Power Program. Our varsity coaches will be present in the weight room and attendance is requested and expected. All high school and middle school athletes, regardless of sport or gender, are encouraged to attend.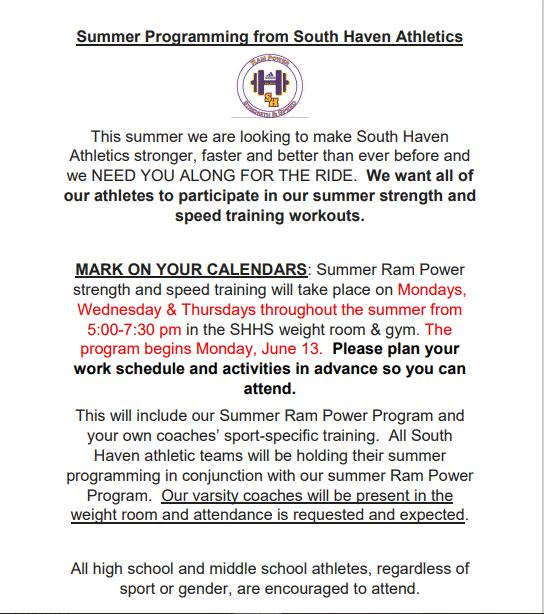 MIDDLE SCHOOL TRACK will practice at Baseline today (4/13) due to the weather. Parents should pick up their athletes at 4:30 pm this afternoon outside of Baseline's gym.

Middle School Track -- Will begin official practice on Wednesday, 3/23 immediately after school in the Baseline MS Gymnasium until 4:30 pm. After the first day, the team will be going to the track if weather permits. Athletes should bring athletic clothes and shoes, as well as something to drink. Participants MUST have a physical in order to practice. Questions can be directed to Coach Tamara Rigozzi at 269-903-1275.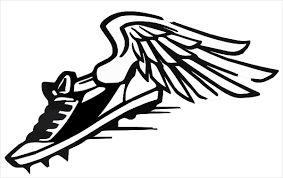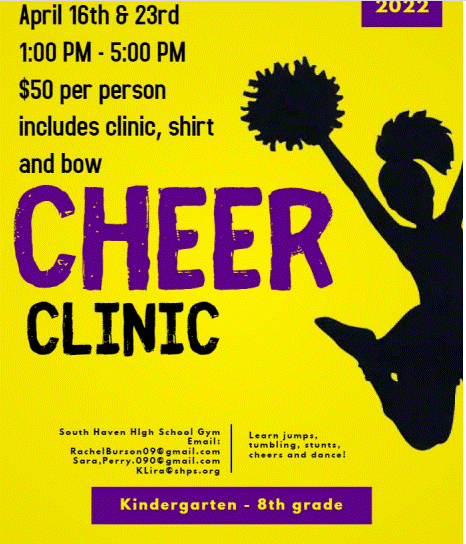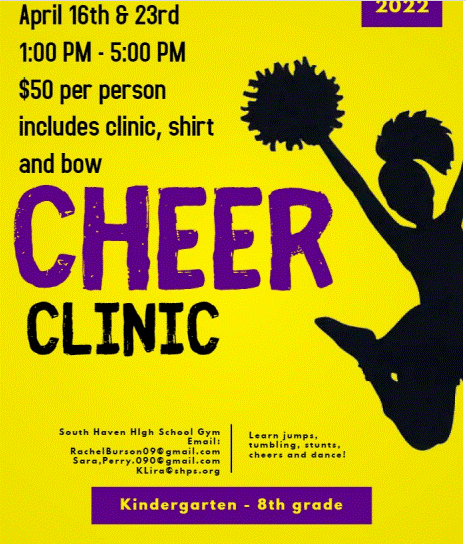 Baseline Middle School Girls Soccer -- Official practice begins on Wednesday, 3/23 at North Shore's Soccer Fields from 3:00-4:30 pm. This year MS girls soccer is an official school sport, so participants must be a Baseline student in grades 6-8 and have a completed physical on file in the office. Players should bring athletic clothes and shoes (preferably cleats), water and shin guards. All questions can be directed to Coach Holzman at
bholtzman@shps.org
.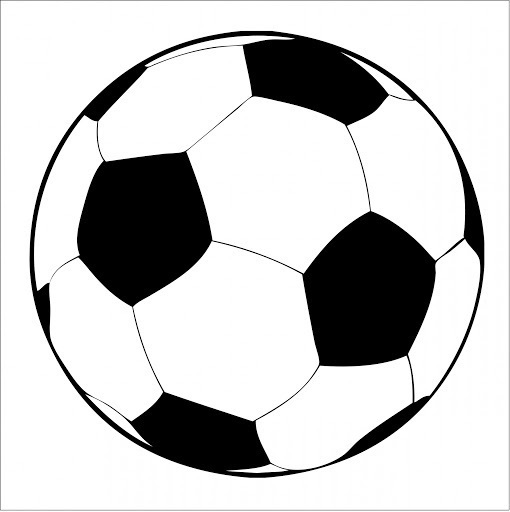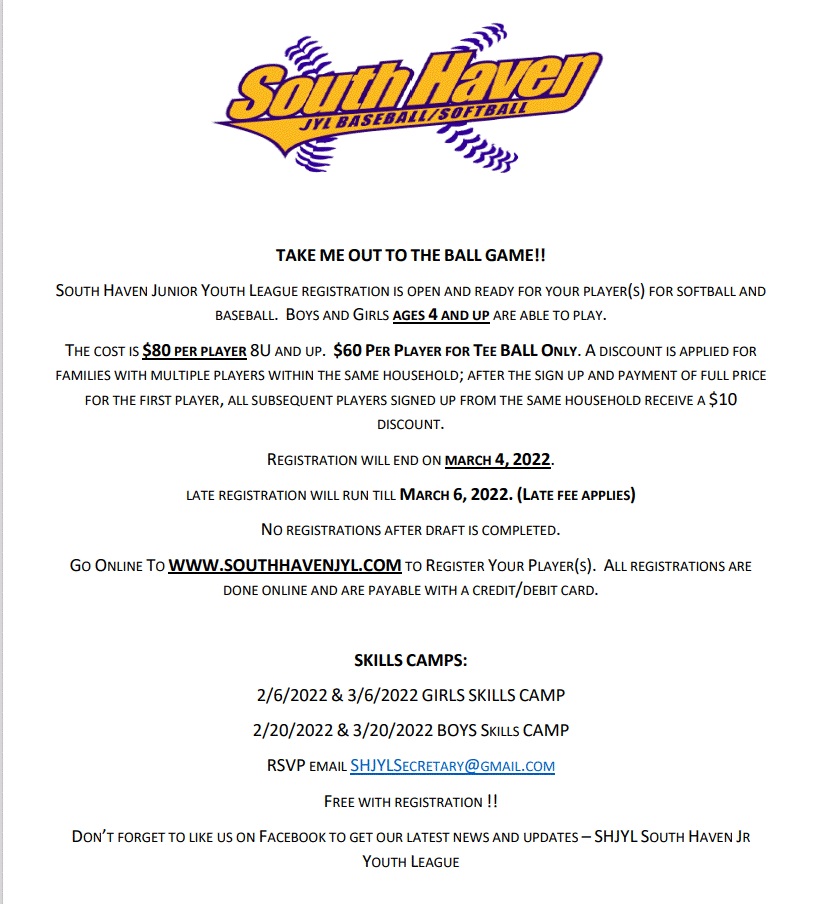 MS Wrestling -- Wednesday's final home meet (2/16) will be held at SHHS rather than Baseline MS. The start time will remain 6:00 pm.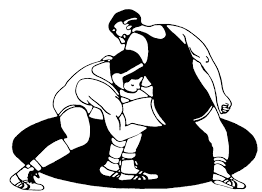 Due to inclement weather, all South Haven Public School athletic activities and practices are canceled for Wednesday, February 2.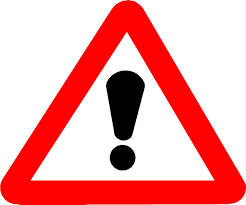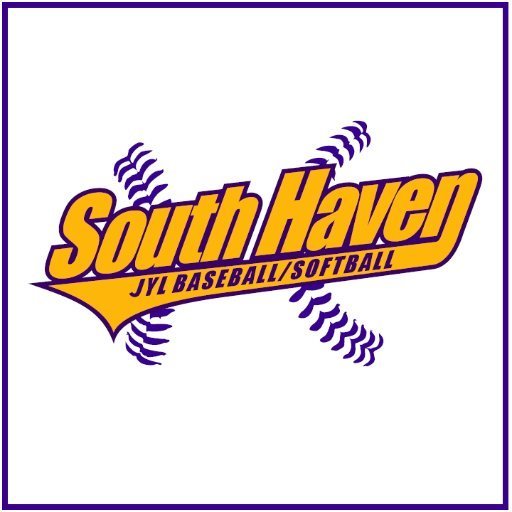 MS Girls Basketball (7th & 8th grade teams) -- Due to sickness we were unable to get transportation to St. Joe Upton as originally scheduled. We now have 5:00 pm bus departure from Baseline MS. 7th and 8th grade players should go home after school and return at 4:45 pm with their uniforms on. The game times at Upton MS will now be 6:00 pm for 7th grade and 7:00 pm for 8th grade. Players who are already committed to swim tonight are excused. Sorry for all of the confusion, we are trying our best to allow the girls to play despite some obstacles.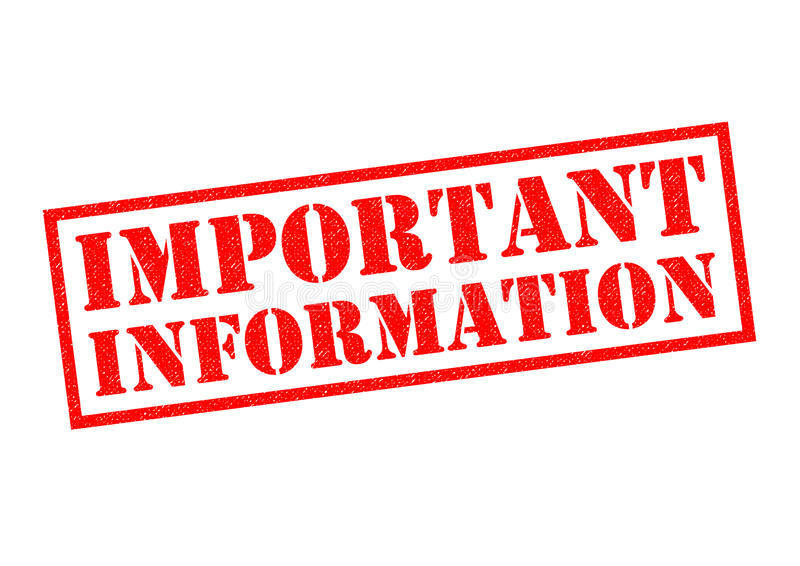 Middle School Wrestling -- official practice is cancelled for Tuesday, 1/25. Look on your team's wall for more information.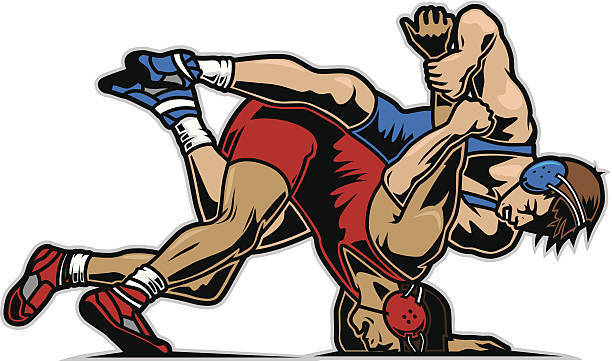 Tuesday, January 25 is a snow day. Please keep an eye on the South Haven Athletics Website, and our Facebook and Instagram accounts, for updates on athletic activities. We will be making decisions sometime around noon.